The Staff
We have a very diverse group of Engineers, Producers,
Writers, Musicians, Technicians, and Graphic Designers
available for your project. With 30 years+ in the
Recording Arts Industry, we are the one-stop-shop, that
can drive to your venue, rehearsal space, or even your
home.
The Truck
The "WWORKS 1 Truck" is a self contained Multitrack Audio
and Video Production Facility, available for Live Broadcast
Recording/Interface, On-Location Recording, Live Concert
Recording, Live Concert Mixing, or Recording at our location.

The Control Room, and Studio are custom built, in a
22' 1987 MACK Mid-Liner. The Control Room, and Studio
sections are completely isolated from each other and
each room has its own HVAC System.

The Power System is Transformer Isolated: Audio/Video
and HVAC/Lighting. The Ground Control System,
provides a lift for each Circuit, and Rack,
with a choice of
Earth or Line Ground.
The Power Requirements:
1-20A 120VAC Circuit Connection for Audio/Video
(In a House or Apartment, a Kitchen Outlet).
1-30 or 50A 240VAC Circuit Connection for HVAC/Lighting.
(In a House or Apartment, a Range or Dryer Outlet).
The I/O System:
The Audio/Video/Time Code-I/O and routing,
is based around two custom built 520 point 1/4"-TRS, and
BNC-WECO Patch Bays.
The Audio BUSS Sends, and TAPE Returns, are switchable
between the Analog and Digital machines, depending on the
format being used. The Microphone Inputs, (1-24, and 25-48)
are also switchable between the Main Console and the Aux
Console.
The Remote Microphone inputs (1-48) are transformer isolated
and split. The Aux sends (1-24) and returns (1-24) are on
separate cables isolated from each other and the microphone
inputs. The Remote Video I/O is also isolated from the Audio.
The Audio Production Equipment
Main Audio Console:
1984 TASCAM M-16 24 X 8 X 2
Aux Audio Console:
1976 ALTEC 1220
Analog Tape Machines:
TASCAM 85-16B (Multitrack)(1")
TASCAM 52 (2-Track Mastering)(1/4")
TASCAM 38 (2-Track Mastering)(1/4")
TEAC 1/4" Tape machines,
and SONY Cassette machines.
Digital Audio Workstations:
3 Custom Built Multitrack DAWs incorporating...
6 Physical Analog Inputs, and 10 Physical Analog Outputs each.
Featuring the Lexicon CORE2 Digital Multitrack I/O Card,
and the M-AUDIO Audiophile 2496 2CH I/O Card.
The Digital Audio, and Video Software is Sonic Foundry/Sony
Sound Forge and Vegas.
Audio Monitors:
Control Room: Mains-JBL 4430s, Near field 1-AURATONE 5Cs,
Near field 2-"Charlie" AT&T-3" Speaker-phone Speakers.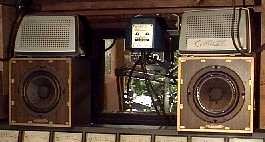 Studio: Mains-JBL 4311s.

Amplifiers:
CARVER, CROWN, and JBL.
Microphones:
EV, SHURE, SONY, and AT.
Headphones:
SONY, KOSS, AKG, and FOSTEX.
Processors, and Effects:
APHEX, ART, MXR, LEXICON, LOFT, YAMAHA, and More..
Studio Instruments:
Drums: GRETSCH, MAPEX, LUDWIG, +.
Bass: RICKENBACKER.
Acoustic Guitars: YAMAHA.
Keyboards: YAMAHA, KORG, CASIO, and ROLAND.
Percussion: All kinds of toys..and if we need it,
we'll find it, or make it up.
The PA System
ALTEC VOT A-7 Cabinets, with
JBL/McAULLY Horns. Powered By CARVER.
The Video Production Equipment
Main Video Switch Console:
AMPEX AVC-33 33 X 4 (Quad-Split)
Aux Video Switch:
DYNAIR Dyanasty-100
Analog Video Tape Machines:
Sony SVHS
Digital Video Machines:
A Custom Built Digital Video Workstation,
and SONY DVD Recorders.
Digital Video Effects:
2 AMPEX ADO-2000s
Video Cameras and Monitors:
IKEGAMI, and SONY.
Other Services:
We have a wide variety of Technical Services
available, from simple electronic repairs,
to Studio Design and Construction.
Back to WWS Top-
Click the Wizard!.